We call it ACT! for Domino, because all you'll need is a Domino server and a Web browser.

Are your users clamouring for a solution to their business application requirements in an interface that is familiar to them from Web based functions? Do you have the requirement to provide Web based access for your remote users to business applications?

At last - the kind of power in front-end access in your Web browser that fulfills the promise of Web-based business application computing.

ACT! for Notes 3.0 for Lotus Notes R5 has the functionality to make ACT! for Domino Web-based access a reality. We have taken the fullest advantage to write natively in Java and JavaScript, and to employ Framesets and Pages natively, to make the design of ACT! for Notes for R5.

Improvements in ACT! for Notes 3.0
Easy install: all graphic images are stored in the nsf file, so that no special installation on the server is required.
Send e-mail memos and create Letters and Form Letters from the Web interface. As always, these documents are stored as part of the Contact history.
Special views embedded in Java applets, which allow for Notes view style document selection and actions.
Notes view style quick-search facility! You may type in a substring on any sorted column, and navigate directly to the first matching document.
By use of views embedded in a Java applet, a user my select multiple documents in a view, and perform actions on those documents, such as linking Contacts to Companies.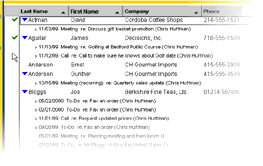 The Domino based navigation pane mirrors the look and feel of the Notes interface.